Marina Metro Hotel
The Marina Metro is situated on the seafront at Havre des Pas, guests can enjoy safe bathing at the beach or in the open air lido pool nearby.
The hotel has a variety of rooms to offer, we are the ideal choice for business travellers who need to be close to town during the day, but want to retreat to our wonderful sea views and hospitality, the solo traveller who may just want to chill and watch the world go by, friends and couples and of course families with children who just want to build sandcastles on the beach; we have something for everyone.
Just a few minutes walking distance from town shopping and on an excellent bus route; a warm welcome awaits you when you arrive at reception, staff are friendly and helpful and nothing is too much trouble.
The hotel restaurant "The Dockyard" has an alfresco area where you can dine 'by the sea' enjoying the wonderful views of the beach and ocean. The Restaurant Menus offers a good choice and changes on a regular basis. Both the restaurant and bars are also open to non-residents.
Music and dancing will be a regular feature during the summer season.
For information relating to Jersey and the current COVID-19 PANDEMIC please go to: https://www.gov.je/Health/Coronavirus/Travel/Pages/CoronavirusTravelAdvice.aspx
MARINA METRO HOTEL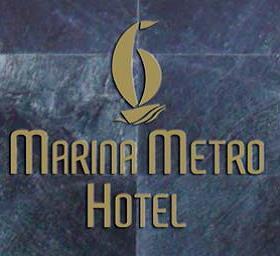 Geoff & Carolyn Mayger and their professional and dedicated team run the Marina Metro Hotel. Head Chef Sebastian, Food & Beverage staff, and staff behind the scenes deliver a quality service in keeping with the company ethos of providing great value for money delivered with professionalism, pride and passion. We strongly believe that the Hotel should be an integral part of the community in which it is located and a focal point for food, festivities and fun. To achieve this aim we propose encouraging local events, provide regular entertainment, and offer great choices on our Menus and Barbecues in the season. Being located on the Promenade at Havre des Pas with Alfresco facilities overlooking the sandy beach, and a veranda lounge above with private facilities and an amazing sea view, we are well placed to achieve our aim, If you are in need of some R&R, are travelling to Jersey for business, or need a venue for an event, personal, corporate or charitable, the Marina Metro will be pleased to help you make it a success. Geoff & Carolyn Mayger
Pulizia e Sicurezza
Igienizzante per mani
Distanziamento sociale
Biancheria lavata secondo le linee guida in vigore
Protezioni per materassi e cuscini
Copripiumini lavabili
Personale formato ai protocolli di sicurezza
Stoviglie igienizzate
Servizi
Deposito bagagli
Bar
Connessione Internet ad alta velocita' gratuita
Connessione Internet WiFi gratuita
Ascensore
Lounge
Ristorante
Sveglia telefonica
Terrazza
Pulizie giornaliere
Terrazza solarium
CCTV nelle aree comuni
La colazione è servita nel ristorante
Percorso (i) ben illuminato all'ingresso
Ampio ingresso nella struttura
Servizi Business
Scrivania di lavoro
Fotocopiatrice
Stampante
Ristorante
Colazione (continentale)
Colazione calda (inglese)
Pranzo
Cena
Colazione
Colazione inglese / irlandese
Colazione sana
Mezza pensione
Opzioni vegetariane
Opzioni senza glutine
Attività ed Esperienze a tema
Osservazione ornitologica
Gite in barca
Ciclismo
Ristoranti
Pesca
Calcio
Golf
Golf - Campo pratica
Corse ippiche
Jet-ski
Musei/gallerie
Nightclub
Vela
Immersione
Shopping
Campi di squash
Campo da tennis - all'aperto
Passeggiate
Sport d'acqua
Degustazione vini
Cinema
Feste di gruppo